The Rough and Ready M/T Tire with Traction that Bites: The Guard Dog is TreadWright's optimum off-road tire, designed to provide maximum traction for all your 4x4 adventures. The Guard Dog will give any Light Truck, 4x4 or SUV a rugged look that provides premium off-road traction and a quieter on highway experience with more lugs on the surface of the road.
THIS IS A COSMETICALLY BLEMISHED TIRE: 
All of our blemished tires are DOT rated for highway use and are covered by our 2-year workmanship warranty. See photos for examples of cosmetic blemishes. 

Typical blemishes are:

Short Shot - This means that the rubber did not completely fill and press in the mold on a tread lug. The tire will still perform, it just ends up with a few lines in the tread block. The rubber is still the same density and should wear normally.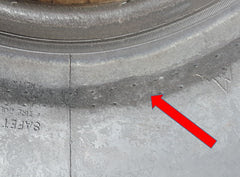 Sidewall Blem - A sidewall blem is due to not enough even heat on the sidewall plate on a Bead to Bead tire. In this situation it does not completely cure the sidewall leaving a ring around the tire. Most customers just mount this side in, since it usually only happens on one side of the tire.

Balancing Weight - Many of our blems may require additional weight to balance the tire (up to 12 ounces).
Tread Block - Some tires can have an extra layer of rubber considered Tread Block


The Guard Dog's combined uniform center lug pattern and open outer lugs create an off-road tire with maximum traction, while generating less noise for highway commuting.  Guard Dog's (M/T) are designed for the Light Truck, 4x4 and SUV adventure seeker who desires the look and performance of rugged, off-road mud-terrain tires, while maintaining excellent wear characteristics in all driving conditions. Guard Dogs are available in widths up to 35" and rim sizes up to 18".



This tire is a Blemished Tire                (see above)

Tire Tread Depth: 17/32" 

Meas. Rim Width: 9 17/32" 

Rim Width Range: 8.5-11" 

Tire Tread Width: 12 3/64" 

Section Width: 10.7" 

Outer Tire Diameter: 36 7/32" 

Max PSI: 50 psi 

Max Load: 3,195 lbs

The Wright Warranty: 2 Year Workmanship Warranty
Road Hazard Warranty Optional - (Can add at Checkout)
Industry Certified - Retread Tire Association
Environmentally Friendly - 65% Less Oil Than a New All-Terrain Tire
40 Years of Proven Remold Tire Experience. This LT A/T all-terrain tire is a remold (same curing process used in new tire manufacturing) not a traditional retread.
Full-Grade Truck Rubber, same mileage as most OE LT/SUV tires on the market
Pre Static Balancing
Premium Tire Casings