BLEMISH LT | MT MUD LORD 235/80R17 10 PLY REMOLD USA - test by haresh
Crafted for the MT off-road enthusiast who also has to commute on highway: The Mud Lord is specifically designed for the driver who needs a combination of highway and off-road performance with new aggressive sidewall lugs.  The Mud Lord has a more condensed lug tread pattern, which delivers a quieter highway ride between adventures without losing the benefits of a mud tire for hunting, boating and fishing expeditions.  Your truck, Jeep or SUV will find the perfect balance between on/off-road conditions with the TreadWright Mud Lord.     
THIS IS A COSMETICALLY BLEMISHED TIRE: 
All of our blemished tires are DOT rated for highway use and are covered by our 2-year workmanship warranty. See photos for examples of cosmetic blemishes. 

Typical blemishes are:

Short Shot - This means that the rubber did not completely fill and press in the mold on a tread lug. The tire will still perform, it just ends up with a few lines in the tread block. The rubber is still the same density and should wear normally.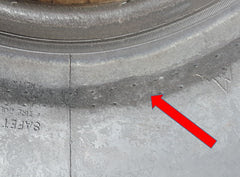 Sidewall Blem - A sidewall blem is due to not enough even heat on the sidewall plate on a Bead to Bead tire. In this situation it does not completely cure the sidewall leaving a ring around the tire. Most customers just mount this side in, since it usually only happens on one side of the tire.

Balancing Weight - Many of our blems may require additional weight to balance the tire (up to 12 ounces).
Tread Block - Some tires can have an extra layer of rubber considered Tread Block

With a more condensed center lug pattern you will get less road noise and lateral drift than a traditional high void lug mud terrain tire 

without losing off-road performance.  The TreadWright Mud Lord features new aggressive side lugs which add an extreme look to any vehicle and the extra grip needed to push through those loose off-road surfaces .  The Mud Lord's tread blocks have traditional siping grooves for wet conditions combined with a three lug off-set center pattern for more stability.  The Mud Lord demonstrates an excellent cross-over performance  that perfectly blends on/off highway mud terrain characteristics.  



This tire is a Blemished Tire                (see above)

Tire Tread Depth: 19/32"




Load Index: 120/117




Tire Weight: 55LBS




Speed Rating: R 




Studdable: No




Meas. Rim Width: 6.5"




Rim Width Range: 6-7" 




Tire Tread Width: 7 1/2"




Section Width: 9.25"




Outer Tire Diameter: 32 1/4"




Max PSI: 80 psi




Max Load: 3085 lbs




Kedge Grip: Avg. 20,000 Miles




Standard Wear: 30,000 Miles




Premier Wear: 40,000 Miles




The Wright Warranty: 1 Year Workmanship Warranty
Road Hazard Warranty Optional - (Can add at Checkout)
Industry Certified - Retread Tire Association
Environmentally Friendly - 65% Less Oil Than a New All-Terrain Tire
40 Years of Proven Remold Tire Experience. This LT A/T all-terrain tire is a remold (same curing process used in new tire manufacturing) not a traditional retread.
Full-Grade Truck Rubber, same mileage as most OE LT/SUV tires on the market
Pre Static Balancing
Premium Tire Casings
*Treadwright Tires recommend static balancing of our tires. Due to our aggressive lugs and that we static balance our tires during production, static balancing is the best option.
We've Got Your Back